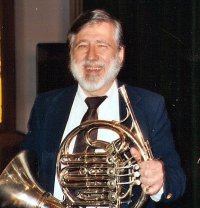 MEMORIAL SERVICES FOR STEPHEN CHRISTEN
To all Stephen's friends:
"An Evening of Music Dedicated to Stephen Christen" organized by family and friends at the Park Theatre has been scheduled for April 21, 2010.
Mark your calendars!
Stephen Christen
Home: Asbury Park, NJ
Date of Death: December 20, 2009
Birthdate: December 4, 1942
Place of Birth: Jersey City, NJ
Stephen Christen, 67 of Asbury Park, passed away Sunday December 20, 2009, at his home.
Native and former resident (1991-2008) of Jersey City, Stephen Christen was raised in West New York and graduated from Memorial High School. He started playing music professionally at the age of thirteen as a club-date trumpeter. In high school he joined Talent Workshop, Inc. of Union City where he started to learn about jazz and playing for variety shows. He entered Montclair State College as a trumpet major and soon switched his major to horn (informally called the French horn).
After receiving his B.A. in Music Education he taught in Memorial High School and started playing in the New Jersey Symphony Orchestra. He left full-time teaching to obtain his Master's degree in performance at the Manhattan School of Music. The New Jersey Symphony was expanding its schedule to such a degree that returning to full-time teaching was not an option, but he did manage to be an adjunct instructor of horn at Wagner College in Staten Island for fifteen years, and also did much freelance work in such organizations as the Paper Mill Playhouse and the Staten Island Symphony.
A very limited list of organizations in which he's played would include the Hudson Symphony, St. Patrick's Church in Jersey City, the Orchestra and Band at New Jersey City University, Sound Tapestry of Hoboken, Riverside Brass Quintet, Wagner College Collegium, SIMS Band, Orchestra of St. Peter-By-The-Sea, Metro Lyric Opera, Imperial Brass Band.
He also wrote transcriptions and arrangements for various groups and individuals, including brass and woodwind quintets, the Orchestra of St. Peter-By-The-Sea, NJCU Sym. Of Winds and Percussion, etc.
Solo appearances include: Hudson Symphony, Richmond County Orchestra (Haydn Concerto #1 in D), Bach Brandenburg Concerto #1 and Christmas Oratorio, recital and chamber music appearances.
Stephen was a true child of New Jersey. Known everywhere and always reliable, every one of his colleagues loved working with him. He leaves behind his brother Gary, sister-in-law Ann, neices Renata, Miranda and Regina Christen, many cousins, extended family and friends.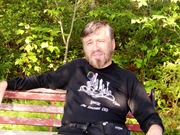 Read the memorial postings by Stephen's vast array of Facebook friends!
View the funeral home announcement page
Visit Stephen's Book of Memories Memorial Website
Here's a long entry of Stephen's from his Facebook page:
I'm now in Christ Hospital in Jersey City, city of my birth, on my fourth day of chemo for Leukemia, and doing pretty good so far. One of my visitors has been my cousin Chee Chee (real name Phyllis), who brought a picture of us from my last summer vacation in Maryland. All these memories came back. In the picture are the three oldest cousins; me, striking a city attitude pose, Chee Chee, who was still taller than me, and Patty. In front of me is Jeannie, Cheech's sister, who died a couple of years later at six from a brain tumor. In front of Chee Chee is John Michael, and then Dennis, Patty's brothers. And standing off to the side is Joey Leo Grande, Chee Chee and Jeannie's cousin on their mother's side. This last trip down there I went with the Masellas (Patty's family), and that's why my brother Gary is not in the picture. I remember that one of the first things I did when we got down there was go on to the back porch and just stare up at the sky, with its glorious array of stars that we didn't in our section of New Jersey, which was already riddled with light pollution. I don't think I knew what the future held, but I must had some inkling that it would be the last time.
This looks like the best picture of Jeannie, before she got sick, and at four was talking a blue streak in that Tidewater accent down. She was achingly cute.
Maryland is the only place I've lived in for any significant period of time outside of NJ. And that period was during the War (WWII), when Mom and Aunt Mary went down to Sparrow's Point to help Aunt Jean with Uncle Pete's tailor shop. They all grew up in the Rag Trade so it was natural. So there we were, the three mamas and three toddlers. Not sure on the dates, but I was probably one or one and a half. I know I was three when we came back north in February of '46. I'm sure we were a handful, especially for poor Aunt Mary, whose job it was to stay up in the house and take care of us while Mom and Aunt Jean tended to the shop which was in the basement. They also came upstairs since there wasn't constant traffic (this was rural Maryland) and the shop door had a handy little bell that would ring whenever it was opened. In later vacation years we would yell "It's only me!" if we came in or out that way, which probably happened a lot.
We were learning to talk then, and I think we all had those Tidewater drawls, although our mothers were constantly teased for their NY/NJ accents.
You wouldn't think I'd have many memories of those times, but it's remarkable how I do. After all, my earliest memory is getting wheeled in the baby carriage in a Jersey City park by Mom and her friend Shirley. When I recalled it years later and described what I remembered: the bare trees, the buildings, the fur coats they wore, and that they were singing a song, my mother was astonished. She remembered the song was "I'll Be Seeing You." I was a couple of months old and isn't it interesting that my earliest memory would include a song?
Of course there were the stories of that time which helped fill in the blanks.
Like the time I tried to cut off my penis. Now, I was the only male around. I think even the cat was a female. And my ever-helpful cousins were teasing me about this thing between my legs. In all fairness, this probably happened after a peeing incident which is still in dispute: There I was peeing against the wall and, as I recall, Chee Chee stuck her hand in the stream. She remembers asking what I was doing and I turned and peed in her face. Maybe they both happened. Anyhow, the girls probably considered it a hindrance, so we got a scissor and…When I cut my glans enough to hurt and draw blood I started to howl, and got rescued. I still bear a faint scar there. Of course I'm always willing to show it, but you have to look real close. The next time Pop came down for a visit (he was 4F and spent the war years driving a bus up and down Hudson Boulevard) Mom insisted that he take me into the bathroom with him where he proceeded to unroll this garden hose from his pants. Never had any doubts after that!
Ironically, one of the things I loved to do was get up before everybody else (!) and go into the back yard and pick the daisies, wearing only a t-shirt. The guy next door would complain to my mother and she would reply that I was only two and so what? He countered that he had two daughters and she said it's not like they'll never see a penis. She suspected that he was jealous.
Of course we were being potty-trained and I did some interesting things, like playing shop with my poop. And one time I used my poop to "style" my mother's hair. Of course we kids got up first and Mom was awakened by the smell. Sometimes it took real effort to love me.
When it came to breakfast time, the girls would get to chatting up a storm, I was the more taciturn of the bunch. So as they were gabbing away, I would finish my oatmeal, ask one if she wanted the rest of hers, and she would give it to me, and go on talking, and I would move on to the next bowl.
Then there were the road trips. Back then, in rural Maryland, kids weren't as closely supervised as now. And we survived, for the most part. So I guess we were getting bored with the back yard, and being the Sagittarian, I must have led the expedition up the road. Always have to know what's over that hill. Well we got the requisite beatings and had to promise never to go up the road. The next day I went down the road. "But you didn't say anything about going down the road!"
There are other things that sort of creep out about that time. Curiously, I don't remember FDR's death and funeral, but toddlers don't concern themselves about those things. I do remember the jingle for Philip Morris, which I later learned was "On The Trail" from Grofé's "Grand Canyon Suite." I remember watching the cat shake her head from side to side and wondering if she'd go completely around. I remember the heat, would could get oppressive and humid, even to a little kid.
I do remember a nightmare. I had probably just heard the story of Little Red Riding Hood. I was lying in my crib in the darkness and I think the sound of my heart beat sounded like the Wolf coming after me.
I think it was then I tried looking through a telescope and could only use my right eye.
One more story from then: It was Christmas time and I wanted a truck. OK, but it had to have real headlights (Oh, where was that Hess truck back then?). It was War-time, and everything was rationed. All the toys were made of wood, like Fisher-Price toys. My parents exhausted every store, including Baltimore and Jersey City. No headlights. Of course, my first utterance on Christmas morning was "It doesn't have real headlights." I sure had my moments.
After the War we moved back north to West New York, where I lived until I got married. So Maryland became our vacation destination.
We would pile into the cars, usually the Christens and Masellas racing each other down there. The Turnpike and Parkway weren't built yet at first, and there was a ferry involved at some point, but we'd eventually get down there, to cries of "It's about time, you sfacims, (bastards) what took you so long?" A lot of hugging and kissing would ensue, we would catch up, and we kids wouldn't wear shoes for three weeks. We would go into the back yard and hunt for "frawgs" or something similar. Once in a while I'd go up into the attic, which was really hot, but had cool things in it, like an advertising poster in a reverse 3-D. Along with his tailor shop, Uncle Pete was trying to get into Real Estate and had a little office alongside the tailor shop. My mother taught me how to touch type on his old Royal. Wow, kids don't even know what typewriters are anymore.
Once in a while we would go downtown (this was now Edgemere), maybe wearing shoes, and go to the movies. I think the admission for kids was 15 cents, as opposed to 25 cents at home. Adult admission may have been 35 cents. Of course, the colored folks had to sit in the balcony, and the bathrooms and drinking fountains were separate, too. Jim Crow was still in full swing in that "swing" state. I saw this happen as late as 1964 when the bar in the hotel where our fraternity was attending wouldn't serve my friend Nelson, who was black. The bartender sheepishly said he couldn't serve him. I cried out "Why not, he's over 21?" And Nelson said "Oh, it's one of those places!" So our whole chapter left the place.
Once Uncle Pete took us on a picnic, using the delivery van as transportation. We kids sat in the back along with the pet rabbit. I was a little nervous, since the back gate was down and the open road behind seemed awfully close to my cautious little mind. I think maybe Uncle Pete's swerving didn't help matters. Soon we were returning home in the comfortably enclosed back of a police car. As for what happened to Uncle Pete, I think they just escorted him home.
I seem to recall that between the sidewalks and the streets there were open ditches, with little bridges crossing them at the intersections and driveways. Never figured out why. There were also plenty of patches of woods, one across the street to the left. One could find a lot of the exotic things one would expect in a damp climate. Across the street in front of the house was a volunteer fire department, and they would occasionally ring the big bell.
As our vacation came to end, we would go crabbing on the Bay and always catch at least one bushel full of blue crabs, which we would somehow keep alive on the trip back north. Or eat down there. But we had a special way of preparing them that most people don't seem to know about. We would set up an assembly line and take apart the crabs first, starting with the claws, then the legs, rip the backs off, clean out the insides, and toss it all into the boiling water. We would usually just add salt and butter. Good eating.
On our last trip down there we went to the Timonium County Fair. It was probably where that picture was taken. Two things stand out about that excursion. One was the Fun House. It was being ballyhooed by a large colored lady over a loudspeaker. Aunt Jean brought us kids in. Now maybe our experiences in Palisades Amusement Park raised our expectations a little much but there wasn't much there: a couple of sponges on the floor (OK, they were big sponges) and the usual funny mirrors and that was it. No rotating barrel or even skirt blowers. Just to be sure we didn't miss anything, we went through about three times. Upon our exit, Aunt Jean started yelling to the crowd that it was a big gyp and not to go in there. No shrinking violets are we.
The other thing that stands out is the Ferris wheel, which was not underwhelming to me. This had the open gondolas and I sat between Patty and Chee Chee. It was set up so it seemed you were going into the trees on the way down. My fear of heights kicked in and I wanted off, which was impossible of course. So I screamed and held on for dear life. After staggering off the ride and kissing the ground, I almost sat down in vomit. Everybody of course accused me of being the vomiter, which I staunchly denied, even pointing out that it was already cold. That could have been the reason for my cross-armed stance in the picture, but I know when I throw up, even at my drunkest moments.
The following year the Petronellos moved down to Florida, following Uncle Pete's Real Estate dreams. We never got down there, since it was too long a drive, and flying was only for the rich. Little Jeannie got a brain tumor which mystified the doctors, paralyzed her on one side, and killed her at six years old. They gave her an early First Communion and had a Mass of the Angels said for her. They brought her up here for the wake and funeral. Hers was the first wake I went to, at eleven.
And then Uncle Pete got lung cancer, so they gave up and moved back up north. With the great help of Steve Leo Grande, his brother-in-law, he was able to get into the VA hospital in New York. Aunt Jean moved in with us until she got her own apartment. She would curl up at the foot of Gary's bed. Chee Chee moved in with Patty's family, graduating from #4 school. At least Uncle Pete got to see her graduate.
I've been to Maryland several times since then, usually on the way to D.C. Of course it's different. I even drove out to one of the little towns and they're all built up. But I've always had a warm and welcoming feeling whenever I would go there.

Guestbook signatures
December 29, 2009 - 03:27 PM|~|Madalyn Hillis-Dineen|~|madalyn@alabe.com|~|RIP Steven. I guess you are playing music with the angels. You are loved and missed by so many friends and family.
December 29, 2009 - 03:30 PM|~|Ray White|~||~|It's sad that such a good natured person has been taken from us so soon. Blessings on your Next Incarnation.
December 29, 2009 - 04:44 PM|~|Pat White|~||~|Steve, you've brought so much gentleness and beauty to the world, and it's hard to believe you've departed so soon. Peace be with you.
December 30, 2009 - 03:45 PM|~|Dennis Masella|~|Gary and I entered adolescence finding Playboys under Steve's mattress and Tommy Dorsey and Glenn Miller on his phonograph.

I owe him much and will miss him a lot.
January 01, 2010 - 09:14 AM|~|John Somers|~|His infectious smile, laughter and personality touched the hearts of many. We'll miss you Steve! God Bless. Johnny S.|~|http://somersdreamorchestra.com
January 03, 2010 - 06:47 AM|~Jim Buchanan|~|Miss you brother. You're onto the next big gig. We had some great times didn't we? Peace. Love. JIMBO (Bucky)
January 03, 2010 - 07:18 AM|~|Julie Castelluzzo|~|I'm glad that I had a chance to meet Steve and get to know him a bit over the last few years. He was a lot of fun to be with. Thanks to my husband, Deryck, I've been introduced to the wonderful circle of horn players he knows.
January 03, 2010 - 08:52 AM|~|Deryck Clarke|~|Where ever and whenever there are people eating, drinking, laughing, reflecting, and playing music, you'll always be there Stephen. Thanks for being part of my life and a great inspiration.|~|http://www.facebook.com/ichillichi
January 03, 2010 - 09:10 AM|~|Usamah Mustafa Byron Elliott|~|Life is a vicarious illusion that we all embark on. Death is our true reality- Steve, may your final destination be peaceful and eternally blissful... Never will we forget you and you will truly be missed... Usamah
January 03, 2010 - 09:17 AM|~|Linda Blacken|~|I met Stephen after a brass quintet gig, then I didn't see him again for a few years. But when we met again, his friendliness was as though we had known each other for years. He was always a joy to be around and an inspiration, both musically and personally. Stephen, you are loved and missed.
January 03, 2010 - 10:35 AM|~|Pete D'Angelo|~|Steve and I were clasmates at Montclair State and brother Sinfonians (Lamba Mu '62). We all had many wonderful times at MSC and even though we drifted apart over the years we had recently reconnected via Facebook and emails. I had just spoken to Steve (via email 12/16) and felt that - even though he said he was understandibly tired-he would improve. I express my dear sympathy to his family and will miss his talents. May he rest in peace.
January 03, 2010 - 01:44 PM|~|Joe Cavalli|~|I met Steve in PS#5 in West New York. We were in the same class and Cub Scouts, as well. We moved on to Memorial High School, where we were in the same home room. After high school we difted. In 1997 I joined Cassmates.com and saw Steve's name. I contacted him and told him about a group of guys from school, who got togather for dinner 4 times a year. Steve joined our group at the next dinner and was a part of the group these past 13 years. He was also one of the guys to take an occasional walk around WNY. My best recollection of Steve was his ability to make people laugh. His best was his pantomime of sewing his fingers together and stiching through his knee and nose and yanking on the imaginary thread. He did this in study hall and had the whole section in tears. He will always be remembered.
January 03, 2010 - 02:57 PM|~|Alex Mastrando|~||~|I've known Steve for the last 11 years and he was always a blast to work with. His sense of humor, his superhuman understanding of the music we'd play, and his great stories made every performance a pure delight. We became very good friends over the last few years and when Eric and I would throw our Summer party, Steve was always the first to arrive, secure a spot by the keg, and reminisce about Jersey City with Eric's mother, and be one of the last to leave, always the life of the party! Steve brought out the best in everyone he worked with and socialized with. His life was lived to the fullest and he savored every moment of it. If I can live my life even a mere quarter of how well he lived his, then I should be a very lucky person! Steve, we miss you dearly but though you are gone physically, you live on in our hearts and memories. Your 67 years of good karma will most certainly lead you to a new life filled with happiness and prosperity and, of course, music!
January 03, 2010 - 03:19 PM|~|John Mayurnik|~|Steve and I went to MSC together though he was 1 year behind me , became very good friends He was loyal, dependable and much fun to spend time with . I will miss him very much .
January 03, 2010 - 04:50 PM|~|Kristi (Rembisz) Brandom|~|Thoughts and prayers, Uncle Stephen. Kiss my mama for me.
January 03, 2010 - 09:28 PM|~|marco Malgioglio|~|I have known Steve for several years playing in various ensembles with him and it was a complete shock when I learned of his passing. I always looked forward to playing alongside of him in a horn section as he was never without a smile on his face or a joke or a funny anecdote about a person or group to tell. It deeply saddens me that he is no longer with us, but he will be with us in spirit. He will be missed and I am fortunate to have been his friend.
anuary 04, 2010 - 08:06 AM|~|Don Spaulding|~||~|Wow - this is sad. I remember Steve being the ultimate bachelor/horn player. He liked to be called "Grandpa" by us young college kids at MSC. I'll never forget Steve's signature of fingering wildly to the piccolo solo in Stars and Stripes while playing only off-beats! He will be missed.
January 04, 2010 - 11:05 AM|~|Julie Castelluzzo|~|The link has a PDF document with my facebook wall conversations, comments, and thumbs up with Stephen.|~|[non-working link]
January 05, 2010 - 03:40 PM|~|Peggy Wiltrout|~|I met Steve about 32 years ago playing in the SIMS band and have done many gigs with him since then. The Orchestra of St. Peter by the Sea sorely missed him this concert season. We had 16 concerts in December. We went to each performance hoping Steve would be well enough to join us. He passed away on Dec. 20, before our next to last concert. The contractor waited to tell the orchestra until the concert was over. The audience all left full of Christmas spirit. But looking around the orchestra all I saw were sad, stricken faces and tears and people holding each other. At our final concert the conductor dedicated the performance of the Overture to Hansel and Gretel to Steve. It opens with a french horn quartet playing the prayer theme from the opera. Steve had played it in October when we recorded it. The recordings were on sale at all the Christmas concerts. We definitly miss him!!!
January 05, 2010 - 06:08 PM|~|Robert Caggiano|~|I met Steve at a graveside service where he played Taps for a departed veteran. There were 3 other buglers there for support. After the service we went to a nearby diner for lunch. We enjoyed Steve's company and his stories of the various musical positions and organizations he belonged to. All of us at Bugles Across America will miss him and his quiet demeanor.
January 06, 2010 - 10:06 AM|~|Jim Robinson|~|In my 20 plus years of playing next to Steve in St. Peter Orch, GS Symphonic Band, Metro Lyric Opera, he always seemed to enjoy my frequent reminders that he was a nudist and a Buddhist. His prescence always meant the job would be more enjoyable. Steve's background was so varied that I never knew what would come out of his mouth but it was always interesting! I deeply appreciated his treating me as a professional horn player long before I did. His passing will be felt in all the groups he performed with.
January 09, 2010 - 04:16 PM|~|John Masella|~|PAEN FOR STEPHEN

MUSIC IS PROOF OF GOD
THIS SONG OF PRAISE DECLARES
IGNORANCE OF THE DEAF
NOT HEARING MUSIC OF THE SOUL.

FATHER MELIS OF SON
SWING SOUNDS OF THE SEVERNSON
LAUGH AND JOY,MIRTH OF ALLEN,
MARTIN AND HENDERSON.

LEECHES SUCK THE EAGLE POINT
MARYANN SWEEPS HER COTTAGE
ROSE AND ELLA LIVE ALONE
RECITALS MAXWELL'S HOUSE.

TWILIGHTS MAN AND HIS HORN
DEMAREST MARCH GIVES THANKS
DOWN TO BONDOMINI PARK
MARY BEARERS SWAY TO SWING.

GARDENS SYMPHONY BLOOMS
SCHOOLS ARE CHOIRS UNSUNG
SIMON KNOWS THE SONG FLIES
HOME BOY ON PALISADES.

BIRDS HELP OPEN BEYOND
THEY PRECEDE ALL TO THE NOM
MYO, RENGI, KYO ALL DEPART
ACROSS THE STREET THE PARK.

AMEN
January 10, 2010 - 08:53 PM|~|Mark Taylor|~|Stephen and I were new friends having only met last summer at the Make Music New York French Horn event, but we immediately hit it off and I am happy to say I was fortunate to enjoy his company, wit, love of music and joy in Horn playing for at least a little while.|~|http://www.marktaylormusic.net
January 12, 2010 - 07:11 PM|~|Jessica Volpe|~||~|I may not have known Steve very long, only meeting him at the children's band concerts in Asbury and Belmar this past summer, but he was a great person. He was always so full of life, energy and stories. He seemed to be extremely fond of his family and he was an absolutely amazing musician. I will really miss playing with him and spending half an hour after each show just telling stories and talking about French Horns. Rest in Peace, Steve. You will be greatly missed.
January 16, 2010 - 09:31 AM|~|Vincent Fano|~|My Thoughts and Prayers are with Steve. And deepest condolences to his family
January 23, 2010 - 10:49 PM|~|andrew bolotowsky|~|what a marvelous,incredible character.surely a movie could be made about him,but who could play him.there is no actor as colorful as him.come back steve.the world will be dreary without you and your e mails.
January 26, 2010 - 09:22 PM|~|Jo-Ann Christen|~|Stephen Christen is my first cousin on my Father's side. Stephen's Dad, Eugene, was my Dad's brother. Our families visited often, several times a week when we were kids growing up. Later as young adults, Stephen and I both attended Montclair State University and Manhattan School of Music in close proximity. I am shocked by his passing and quite distressed that he will no longer be in my life. He was a walking encylopedia, since he had a photographic mind and was an avid reader. He loved comic books as a kid and at one time had a huge collection. Stephen and I also were founding members of the Festival Brass Quintet, which was active in New Jersey and NYC while we were at Manhattan. He was a great musician, a musician's musician, because of the knowledge of music he had behind his playing. I loved him dearly and will treasure him and his life always. I hope to see many of you at his memorial service on Feb. 10th.
Cousin Jo-Ann, Trombone
January 27, 2010 - 09:45 AM|~|margaret n fontana|~||~|I first met Stephen in 1961 whan i entered as a music major at Montclair State. He and his first love, who was also a hornist, were simply glued together, and carrying their horns, wherever I saw them. They looked like one double-belled instrument which was joined at the waist and face. I approached them and told them that. Those were the first words I uttered to Stephen Christen. Little did I know they would certainly not be the last. Fast forward to the teachers' convention in Atlantic City in November, 1966: I went down to Atlantic; I was dating Nelson White at the time. Stephen, John Mayurnik, Joe Malanga, and Nelson all hung out together. My friend Joan Benson, with whom I shared a hotel room down there,and I hung out with those guys. We all had a great time during which Joan and Nelson became close and Stephen and I became close. We went to the Smithville Inn , and in the parking lot we were walking holding hands; Joan and Stephen and Nelson and I. Then, like a natural dance step, we switched; Nelson took Joan's hand and Stephen took mine. That night Stephen followed me home to my parents' house in Long Branch and stayed the night. We remained together from that point on, got engaged January 2,1967, and married May 11, 1968. Together we played with N.J. Symphony (we always said that we spent our honeymoon in the N.J. Symphony),co-founded Diapason, a woodwind quintette, La Musica, a Medieval, Renaissance, Baroque Ensemble, Essence, a wedding band, among others, and gigged all over N.J.and N.Y. We divorced in 1993 due to some very unfortunate circumstances, but we continued to see each other all the time on gigs, and we rather quickly began to be close again. Over the years we collaborated on many large entrpreneurial enterprses. Apparently, things never really had changed. We dated more and more seriously and finally reconciled fully. This last year, he became sicker, had a long hospital stay, and passed on December 20th. We had no children, but ...
January 27, 2010 - 09:50 AM|~|margaret n fontana|~||~|the rest of my message - We had no children, but our issue is our passion and outpouring of music these many years. Stepehn, Mio Marito,I love you. Nam Myoho Renge Kyo. Marguerite
January 27, 2010 - 08:26 PM|~|margaret n fontana|~||~|i'm back because gary asked me to write more - there is so much - we had such plans - it was a true gift to get back (or actully we never really left each other) after the discord of years ago and to correct the wrongs and negative circumstances which accrued and for which we were not prepared many years ago - stephen's and my family had the same moral principles and beliefs in the powers of hope and love - my dad, bill fontana, did all the photographs for our wedding and reception - steph's mom, renee christen, made me a christian dior pattern wedding gown, and i wore a mantilla instead of a veil (that was way before brides were doing that - now it is very common)- my best friend, karen rembisz, was my matron of honor, and our friend, john mayurnik was the best man - my sister anita and steph's bro gary were the ushers - karen made her dress and anita made hers - the groom and the ushers wore grey morning coats and cravats - our reception was at the elks club, and our friends played the whole reception as their gift - to back up a bit, our cousin jo-ann and their brass quintette played the wedding ceremony at st joe's of the palisades - even after the divorce (which really should never have happened - that is why it did not stick ;))we called each other up on each may 11 to wish each other happy anniversary - more later; the grief is very exhausting - nam myoho renge kyo, marguerite
January 30, 2010 - 05:01 PM|~|Adrien Synnott|~|Nothng to say other than he will be missed.
January 30, 2010 - 05:12 PM|~|Kristi Brandom|~|Uncle Stephen was my mother's college best friend's husband and in all honesty should have been my Godfather and really wish he had been. I have many young childhood memories of him and my Aunt Marge and even more wonderful conversation online (politics, politics, politics!) I know now that he is celebrating life with my mother and then are giggling over some silly thing they did in college. You will be forever missed, my Uncle.
January 31, 2010 - 06:44 PM|~|Bernie O'Connor|~|Steve was a unique personality with a sense of humor all his own.He took a joke as well as he gave one and never had a bad thing to say about anybody, even when I chided him for his leftist beliefs. An accomplished musician on many instruments, I had the pleasure of working for the past 20 years with him in many venues, from the long hours on the streets playing the feasts, to the Pit at the Park Theatre and beyond. Most importantly, he was a good friend.

Happy Travels, my friend.
January 31, 2010 - 07:42 PM|~|Dave Weeks|~|What a bummer. I just found out about Steve. I'm having happy memories of working with Steve in Jonn Dukes band with all the fellas. Steve was always ready to spread cheer and have some fun. He will be missed but never forgotten. Keep on blowing your horn Steve!!!
February 02, 2010 - 11:14 AM|~|Robert Garcia|~|I was very sad to here of steve's passing. I'll always remember the days @ NJCU performing with the Symphony of Winds and Percussion along side Steve in the horn section. He was a great musician,but most of all a great person.
February 05, 2010 - 02:43 PM|~|Alice Sprong Failla Aiello|~|I already wrote my comment and then it disappeared. Sure, like at my age I remember what I wrote. Well, here goes. I first met Steve when he came over to my aunt's house. He was related to my Uncle Artie(God, I loved him). Never realized that for the next 40 years we would work together in music, one way or the other. Always called Steve my cousin. He was the best French Horn player in the world. Always smiled and always had a kind word. Sat on my porch one day for hours. I admired his talent. A wee bit strange, but what musician isn't. I guess I was even stranger. Maybe that's why we got along so well. I just saw him in July at the feast in Hoboken, as usual. Never knew he got ill. So fast. Too fast. I guess you were called to play celestial music for all to hear. I will me you there my cousin Steve. Alice
August 21, 2010 - 02:52 PM|~|Alex Mastando|~|Gone, but not forgotten.